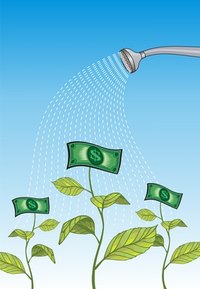 Companies offer their employees 401k plans to help them save for retirement. These plans offer the advantage of contributions made with pretax dollars, and the money grows in the account tax-free until it is withdrawn. However, despite the tax advantages, 401k plans have several drawbacks you should be aware of when contemplating how much to contribute.
Limited Investment Options
When you put money in a 401k plan, you must invest it in one of the plan's available account options. Depending on your company's investment options and your personal investing style, this may or may not pose a problem. Larger companies are likely to offer more plan options because they can absorb the cost of additional accounts more easily. But if you work for a small company that only offers investments in company stock or certificates of deposit, you may find you would prefer to put your money in an individual retirement account (IRA) so you can choose your own investments.
Restricted Withdrawals
Once money has been contributed to a 401k plan, you can only withdraw it under extreme circumstances before you are 59 1/2 years old. In order to take an early withdrawal, you must have terminated your employment with the company, have a financial hardship or have suffered a permanent disability. Financial hardships refer to times when you have a financial need, such as rent payments for your primary residence that cannot be satisfied by any other resource, such as savings or loans. Even if you qualify for an early distribution, you must still pay income taxes and a 10 percent early withdrawal penalty on the amount. However, the 10 percent penalty is waived if you are at least 55 when you leave your job or if you have a permanent disability.
Vesting
The IRS permits 401k plans to require a vesting period for employees before they are able to keep any matching employer contributions made on their behalf. For example, if a company contributes $5,000 to an employee's 401k plan but the employee leaves after just one year of service, that employee may not be entitled to keep the $5,000. The IRS allows companies to choose to vest employees immediately, fully vest employees after three years of service, or offer graduated vesting over six years. With graduated vesting, each year of service increases the percentage of the employer's contributions the employee can keep. For example, after working three years, an employee would be 40 percent vested. Employees are always 100 percent vested in contributions they make themselves.