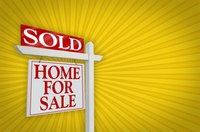 Almost all home loans come with occupancy restrictions. Whether a home will be used as a primary residence, a secondary or vacation home or a rental property will determine the loan amount, interest rate and perhaps even the terms of the loan. For this reason, the occupancy status of a property must be listed on the initial application for financing.
Occupancy Defined
A residential property will fall under one of four categories: owner-occupied (primary residence, lived in for the majority of the year), second home (a secondary residence used a portion of the year), vacation home (a home used for entertaining, vacations or special occasions), or non-owner occupied (a home or apartment complex rented to tenants for profit).
Interest Rates
Borrowers with good credit and plans to use a home as a primary residence are almost always afforded the lowest interest rates in the market. Loans secured by rental property, second homes and vacation dwellings come with higher interest rates.
Down Payment Requirements
Although a few lenders offer 100 percent financing on owner-occupied transactions, most programs require at least 3 percent down. Financing on second homes, vacation properties and rental units commonly come with down payment requirements of 20 percent or more.
Multi-Unit Occupancy Requirements
It is common, especially in urban areas, for owners of multi-family units to qualify for owner-occupied financing. This occurs when a borrower owns, maintains and lives in one of the building's units. Some lenders will allow borrowers who live in their rental complexes to finance more than 80 percent of the purchase price.
Non-Occupying Co-Borrowers
Some lenders, if the situation is disclosed at application, will allow a home buyer to use the income of a co-borrower who will not occupy the subject property to qualify for a mortgage. These types of transactions are commonly associated with bank portfolio loans and specific government mortgage programs, such as the Federal Housing Administration, or FHA.
Fraud Prevention
To curb mortgage fraud, lenders commonly investigate whether borrowers who claim they will occupy the properties are telling the truth. Underwriters will examine how many mortgages a borrower has, the value of his owner-occupied property and whether he intends to sell it or retain it as a rental. While downsizing is common, underwriters will deny loans they feel don't make sense. For example, if the owner of a $950,000 single-family home in the suburbs applies for 97 percent financing on a small row house worth $175,000 in the city, an underwriter will likely want a letter of explanation.