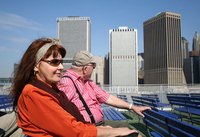 If your business benefits from tourism, then developing promotional efforts that will appeal to this group can be advantageous. By employing specific marketing techniques to attract tourists that visit your area, you can increase business traffic to your establishment. There are several ways to go about this.
A Sale Directed to Tourists
Place fliers and sales papers in areas where tourists stay. You can create an arrangement with the owner of bed and breakfasts and hotels in you area to put your promotional materials in their lobby or another area that tourists will see them. You may pay a fee for this or create a reciprocal arrangement. If you are a member of a business organization in your community, this can provide a way to develop such reciprocal relationships for the mutual benefit of those involved.
Targeted Advertisements
It can be effective to look at the regions where the majority of tourists to your particular area are from. For example, your local chamber of commerce likely complies data on where most tourists to your town come from. They generally do this by conducting a simple survey of tourists that come in to get brochures, directions and other information they need. Consider asking customers to your business, be it a restaurant or shop, to take a simple survey that allows them to rate service as well as whether they are a regular customer or a tourist on vacation in your city. Then target your ads to those customers.
Local Commercials and Ads
Devising commercials and ads that appeal to tourists can be an effective way of drawing tourists to your business. Advertise in magazines that specially focus on tourist destinations. Place commercials in areas that your research shows a large percentage of tourists live. You may also want to develop mailers that can be printed in bulk and mailed out to the areas where you determine they can be most effective in bringing you future business.