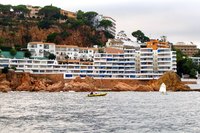 Hotels often struggle in a challenging economic climate because people try to cut costs when they travel, turning to budget motels and even staying with friends or relatives. When they do stay in hotels, they may avoid using room service or ordering premium television options. Expanding the range of services a hotel offers is a key way to increase revenue. Look for services that don't cost extravagant amounts of money to implement.
Hotel at Home Boutique
Create a boutique (whether online, at the hotel or in a catalog placed in each room) where hotel guests can purchase the sheets, pillows, blankets, bath products, towels and even light fixtures provided in their rooms. If a person's stay was particularly relaxing, he may wish to buy some of the things that helped create the relaxing atmosphere. A substantial retail space with a showroom should not be necessary, as guests will have already experienced the products for themselves. Existing retail space can be expanded or reconfigured to hold an experimental "Hotel at Home" line.

Entertainment Concierge Service
Offer an entertainment concierge service--in-room or through a catalog--where hotel guests can purchase books, music and DVDs, and rent gaming consoles and games. Stock a range of mass-market paperback novels (current bestsellers are always a good bet), including historical, contemporary and romance novels. If the hotel features an in-room music system or plays consistent ambient music throughout public spaces like the lobby and hallways, make that music available for purchase. Also, create seasonal and holiday-themed services. In November and December, for example, add such holiday classics as "Miracle on 34th Street" to the entertainment concierge service.

Freelance Service Center
Hotels can make extra money by curating a network of local service providers in various areas such as babysitting, pet grooming, pet boarding and personal shopping, according to an article on Entrepreneur.com. Sell such services to guests at a healthy markup.