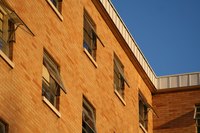 For many students, heading off to school means more than just facing more rigorous academic challenges. It also means venturing out from under their parents' roofs and living independently for the first time. Many students make this transition slowly by starting their college career in student housing. This housing option allows students the freedom to come and go generally as they please, but also ensures that students remain safe and become acclimated to this new-found freedom effectively. Colleges can encourage their incoming students to look favorably upon the student housing option through effective marketing.
Cost Comparison
In many cases, student housing is an economically advantageous option. Prove this fact to students, and their cost-conscious parents, by creating a cost comparison sheet. Divide the sheet into two columns. In one column, list the price of the dorm and any requisite meal plan. In the other column, list the cost of an off-campus apartment as well as average food costs. Include prices for things like furniture, as these pieces are provided in dorms, but students must purchase them when living off campus. Include this cost comparison in new student orientation packages to get parents thinking about student housing options.
Highlighting Convenience
Living on campus provides students with added convenience, as they do not have to travel to and from the school daily. Seek testimonials from students who currently live on campus singing the praises of the convenience of on-campus housing. Create a brochure featuring pictures of and quotes from current students. Provide this brochure to interested students to instill the notion that on-campus housing is the best choice.
Safety Appeal
Many parents, worried about their little babies heading off into the big bad world, are eager to ensure their student's safety. Highlight the added security of on-campus housing to put these parents' minds at ease. Create a flier that lists the safety features of student housing, including security guards, key-pad entries and P.E.D's (Personal Entry Devices) if applicable to your school. Give this brochure directly to parents to ensure that they are fully versed on the safety features of campus housing.
Photo Layout
When many students think of college housing, they picture dim, cramped, dungeon-esque spaces hardly fit for inhabitation. Dispel these notions by creating a photo layout featuring your student housing options. Take appealing photos of the student housing options to allow incoming students the opportunity to see their choices. Do not create images that give a false impression of the housing options, but at the same time select images that display the options in the most positive light possible to effectively show the benefits of student housing at your institution.