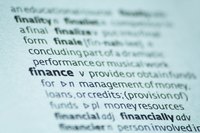 All people, corporations, non-profit organizations, and government agencies are required to complete financial statements, whether for tax purposes or for expressing the trajectory of a company to shareholders; however, the major challenge with analyzing a financial statement is seeing beyond what financial experts call the "window dressing." That is, financial statements are meant to express what the writer wants them to express, making the analyst's core challenge that of seeing the true financial figures.
What is "Debt," and Where is it?
The definition of debt changes depending on the accountant or financial analyst that writes the financial statement; moreover, the location of the debt could change such that it is no longer present on the balance sheets. For example, one major cause of the economic recession from 2008 to 2010 was the poor financial data available. Banks, major corporations, and insurance firms hid their debt in other investment vehicles (e.g. hedge funds, supposed "subsidiary" companies, etc.). Moreover, firms were apt to count debt as investments ("capital" or "assets" in finance terms), thus allowing firms to decrease the total and/or relative amount of debt written on their balance sheets.
Expected Earnings Potential
The portion of a financial statement detailing total investments, whether by a corporation or single individual, is also difficult to analyze, because investments are valued more by their future earnings potential rather than by their current value. For example, a person who buys a stock in Microsoft today is hoping that the stock goes up in value in the future. Thus, understanding the true value of investments requires anticipating the future, which is a notoriously difficult endeavor.
What are the "Assets," and Where are they?
Like assessing the value of debt on a financial statement, assessing the value of assets is equally difficult for a number of reasons. First, any physical capital owned by a company or individual, whether it is a computer, television, or bag of pillows, depreciates in value over time. Second, the assets are often tied together with a debt obligation (e.g. investments that use borrowed money). Third, assets are often shipped elsewhere to avoid taxation. For example, Luxembourg is a known tax haven for the wealthy, and corporations in general are known for keeping their money in accounts abroad, thus escaping domestic tax obligations. Ultimately, the asset portion of a financial statement may or may not be heavily manipulated, a lurking variable often leaving an analyst in the dark.