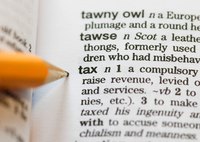 Value Added Tax is a United Kingdom tax which is similar to sales tax. The main difference is that it's applied at every stage of the manufacturing and supply process. Businesses must collect VAT when they sell goods or services, but can deduct the VAT they spend from this total liability. The idea of the system is that the business winds up paying VAT only on the value which the business adds-for example, in combining raw parts into a finished product.
Businesses
The money a business spends on VAT, through payments to suppliers, is not directly refunded. Instead the company deducts it from VAT receipts, collected from its sales, in an annual tax return. In most cases this will leave an excess amount which a company pays as part of its tax bill. If the deductions exceed the revenue collected, the company will be eligible for a refund.
Tourists
Visitors from the European Union are not normally eligible for a VAT refund. Visitors from other countries will be eligible to reclaim the VAT from purchases in the United Kingdom. To receive a refund they must leave the UK, heading for a non-EU country, by the end of the third month after the month in which they bought the product. As an example, for goods bought on July 5, the person must leave the UK before the end of October.
The refund is only available for goods from stores which are part of the voluntary VAT Retail Export Scheme. The store will supply documentation, usually the form VAT 407, at the time of the purchase. The customer must then report to customs staff at the departure airport and show the goods, the receipt and the VAT 407. Once approved, the customer either gets the money back immediately from a refund booth; mails the form to the store, which send them the refund; or mails the form to a commercial refund processor. Which method is used depends on the store's policy.
Homes
People in the UK who either build a new home or convert a non-residential building to a home may be eligible to obtain a full or partial refund of the VAT from expenses related to the project such as materials and labor costs. The refund is not available for construction of, or conversion to, commercial property. The homeowner must submit a refund claim in the three months after obtaining documented evidence that the work is complete.