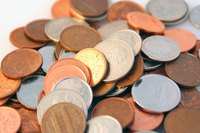 Assessing financial risk is a highly quantitative process that requires calculating the expected returns of a firm or investment portfolio (after inflation) as a process of calculating its current value and total risk. In financial terms, risk refers to the potential for an asset to depreciate, and the higher the risk for depreciation, the higher the risk premium (potential total returns on the asset). Thus, with greater risk comes either greater reward (less likely) or greater loss (more likely).
The Price of an Asset
The price of an asset is the greatest reflector of the market's assessment of its total risk. For example, the stock price of General Motors reflects the aggregate information in the market regarding the value of General Motors. Sometimes a stock may be over- or undervalued, but the price of an asset is nonetheless the most basic, easy-to-read indicator of the risk associated with that asset. A financial asset priced highly is highly desirable and thus is considered a less risky asset to own (e.g., the general opinion of real estate). A financial asset priced poorly is less desirable and thus is considered a more risky asset to own (e.g., the general opinion of penny stocks).
The Debt Behind an Asset
The total amount of debt behind an asset also impacts its overall value. The higher the debt-to-capital ratio, the greater the amount of risk associated with an asset. For example, during the U.S. economic recession from 2007 to 2010, the real estate market crumbled because the debt obligation of an individual mortgage overwhelmed a homeowner's ability to pay for that mortgage. Thus, from 2007 to 2010, the real estate market was a risky market to be involved in because the debt had overwhelmed the total amount of actual home ownership and thus led to a depreciation of the value of the entire market.
Expected Returns Estimations
An estimate of the expected returns of an asset also speaks volumes about the overall risk of owning that asset. For example, owning stock with the company Apple is deemed a smart, less-risky investment because its product line is popular and the revenue stream of the company continues to expand. Similarly, currency investors put money into the U.S. dollar because the overall U.S. economy is deemed more stable (more likely to either consistently grow in the future or not degrade substantially) than the economies of other countries or regions. According to investment expert William J. Bernstein, the goal of investing for the average person is not to die rich, but to "avoid dying poor." Thus, in many cases, investing in a stable asset that is almost guaranteed to have expected returns, however low, is better than investing in an asset with possibly negative expected returns. For the expected returns of publicly traded companies, read the earnings reports made available on their websites.