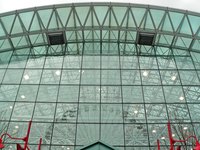 Organizations with matrix structure formulate teams of skilled individuals from different business sections. Teams are established for a particular project, often headed by a project manager. The teams generally last until the duration of the project. While reporting to the project manager, individuals of such organizations are also responsible to respective departmental heads.
Project Teams
Matrix structure organizations develop teams for different projects, carefully selecting skilled manpower from different departments and functions of the organization. These teams are headed by project managers who bring discipline and uniformity to work. Project managers set clear goals for the teams and ensure the accomplishment of these objectives, which ultimately results in well-accomplished projects.
Diverse Skill Set
In matrix organizations, managers have an improved access to a diverse set of skills and perspectives. The project manager clearly outlines the skills required to accomplish a particular project. The project manager then looks for individuals with the precise skills needed to deliver on the project. Since the project manager has access to the entire organization, it is easier for him to place the right man on the right job. For instance, if a marketing project involves intense financial calculations, then the project manager may submit a request for someone from the finance department to take on this task.
Increased Communication
Matrix organizations foster increased communication and coordination throughout the company. Teams are built and rebuilt for different projects, allowing the workforce to collaborate with one another for successfully accomplishing different projects.
Decentralized Decision Making
A matrix organization encourages decentralized decision-making, as opposed to companies with bureaucratic structures. Given the present, fast-paced business environment, empowering the employees with the ability to take decisions has only proven to help a business accomplish its goals and objectives.
People Development
Individuals are exposed to greater learning and skill development opportunities within a matrix structure organization since they work together with experts from different departments.