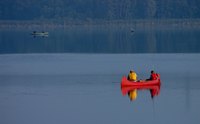 The Massachusetts Division of Fisheries and Wildlife provides an abundance of information regarding freshwater fishing in lakes and ponds. Maps are available for each pond and information is included about the acreage, depth, boat access and restrictions, facilities and types of fish. The Department of Environmental Protection manages a list of great ponds, those with more than 10 acres, by county.
Island Grove Pond
Island Grove Pond is located in Abington, Mass. It is an artificial pond that was created when a dam was built in the 1700s on the Shumatuscacant River. The 38-acre pond has an average depth of 4.5 feet and features largemouth bass, bluegill, yellow perch, pumpkinseed and trout. The pond can be accessed from the shore at Island Grove Park and from the Memorial Bridge. Canoes and non-motorized boats may also be used. The 11-acre park offers picnic tables, a swimming pool and a summer camp.
Island Grove Pond Southeast District HQ Massachusetts Wildlife 195 Bournedale Rd. Buzzards Bay, MA 02532 508-759-3406 mass.gov
Mystic Lake and Middle Pond
Mystic Lake and Middle Pond, located near Barnstable, Mass., are natural ponds that are connected by way of a channel that is about 1-foot deep. The 149-acre Mystic Lake and the 108-acre Middle Pond both have an average depth of 20 feet. The ponds are stocked with smallmouth bass, largemouth bass, white perch, yellow perch, golden shiner and pumpkinseed. An unimproved boat ramp on the south side of Middle Pond provides access for car top boats, canoes and some lightweight boats that are on trailers. Boat motors may not exceed 10 horsepower.
Mystic Lake and Middle Pond Cape Cod Watershed Flume Avenue Hyannis, MA 02601 508-389-6300 mass.gov
Big Sandy Pond
Big Sandy Pond, a 134-acre natural pond located in Plymouth, Mass., has a 19-foot average depth. The pond is stocked each spring and fall with rainbow, brown and brook trout. Other fish include largemouth bass, smallmouth bass and yellow perch. A concrete pad ramp provides access for trailered boats. Parking is available on a graveled area for about 10 cars. The nearly two-mile shoreline is developed with homes and summer cottages.
Big Sandy Pond Gunning Point Road Plymouth, MA 02360 508-389-6300 mass.gov
Whitehall Pond
Whitehall Pond, located in Rutland State Forest, is 25 acres with an average depth of 7 feet. The pond is accessible for canoes and car top boats, but motors are not permitted. Fishing is permitted along the entire shore, with the exception of the beach area in the summer. Fish include largemouth bass, rainbow trout, yellow perch and bluegills. The pond is stocked with trout each year and the best months for fishing are April and May. Picnicking facilities and swimming are also available.
Whitehall Pond Rutland State Park 2 Crawford Rd. Rutland MA 01543 508-886-6333 mass.gov