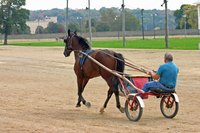 Horse-drawn buggies, carriages and wagons were once used as transportation, but now have found other niches in equestrian culture. A horse-drawn buggy can be used for driving competitions and exhibitions, as well as for leisure activities. The parts of a horse-drawn buggy are complex and may vary depending upon the manufacturer and intended use, but when restoring an old buggy or purchasing a new one, it helps to possess a working knowledge of the parts.
Wheels
A horse-drawn buggy can have two or four wheels, each of which is supported by wood or metal spokes. Some buggies have tires that help the cart move more smoothly over various surfaces, and wheel hubs are used for decoration. Axles connect each set of wheels on the horizontal plane, from side to side, and modern buggies often include shocks to absorb motion and vibration. Wheels are often made of wood to preserve tradition, according to the Online Encyclopedia, with birch, elm and hickory being most popular.
Shafts
Shafts are shackled to the wheels of a horse drawn buggy and are fitted to the horse's harness. Buggies are generally made of wood and extend in a straight line from the buggy to the horse, ending a few inches beyond the animal's shoulders. They are measured according to the horse's size, though custom kits are also available. Engel's Coach suggests buggy shafts can measure anywhere from 48 inches for miniature horses to 87 inches for draft horses.
Seat
The driver and his or her passengers sit in the seat of a horse-drawn buggy, which is suspended over the wheels. The seat can be lavish with leather upholstery and other decorations, or it can be simple. A buggy is usually designed for only one or two passengers, while a carriage might hold more.
Undercarriage
The specifics of the undercarriage on a horse-drawn buggy can vary, but the undercarriage generally consists of the chassis, the boot and any other parts that support the structural integrity of the vehicle. Skidpans are used to steady the wheels of a buggy, while fifth wheels facilitate smooth turning of the buggy.
Traces
The horse-drawn buggy is connected to the horse in two ways. The first is through the shafts, which attach to the sides of the horse's harness, and the second is the traces. These are the lines that allow the driver to manipulate the horse, and are made of of leather. They thread through rings on the horse's harness and attach to the bit.
Dash
Some horse-drawn buggies are fitted with a dash, which is located at the front of the buggy just in front of the seat. The dash provides a place for the driver to brace one foot as well as a barrier between the horse and the body of the buggy.