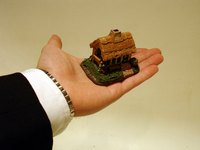 Home ownership surged in the United States when low mortgage rates coincided with a tax credit for first-time home buyers in 2009 and early 2010. Even though that tax credit has since expired, there are still many reasons why becoming a first-time home buyer is advantageous, and the majority of those reasons have to do with finances and financial stability.
Tax Advantages
First-time home buyers who entered into a binding contract to purchase a home before April 30, 2010 were eligible for up to $8,000 in tax credits. Even though the window for obtaining that credit has passed, home owners are still able to deduct their mortgage interest and property tax payments from their income taxes. Since interest on a mortgage constitutes the majority of early mortgage payments, first-time home owners will find the government will reimburse them for the majority of those payments through a lower tax burden, or even a refund, in the following year.
Home Equity
Home equity is the difference between a home's market value and the amount still owed on its mortgage. Because homes that weren't overpriced increase in value over time, and the amount owed decreases over the same time, first-time home buyers are making an investment that will accumulate money for them. In this sense, it's helpful to think of buying a reasonably-priced home as opening a savings account. Improvements to the home that increase its value are actually deposits, as they increase the home's equity.
Financial Stability
Renters are at the mercy of their landlords when it comes to pricing and payments. A landlord usually increases the cost of rent over time, and may even stop renting altogether. First-time home buyers have more predictable housing costs, as fixed-rate mortgages lock in a clearly defined payment amount, and even variable mortgages have interest rate caps and may be refinanced. These facts, combined with the lift to a homeowner's credit score that mortgage payments provide, are among the most rewarding advantages.