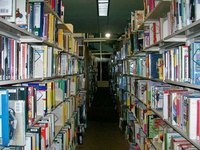 Library newsletters are an effective way to spread the word about upcoming events at the library and in the surrounding community, give tips and encouragement for families to read to children, and highlight upcoming releases. Also, newsletters offer the chance for librarians to draw attention to overlooked aspects of the existing library collection, such as regional history rooms and specialty collections.
Local Author Profiles
Write short profiles of local authors. The profiles should center around how the subjects got started writing, their favorite books and authors when they were growing up, the process of writing their first published books, whether they write their first drafts in longhand or on the computer (or typewriter), and what advice they would offer to young and aspiring authors. Spell their names right. ("Triple-check all facts, dates and spellings, especially names," advises an article on writing and editing newsletters by the Alabama Cooperative Extension System.) If you run out of local traditionally published book authors to profile, expand your net to include freelance writers and even bloggers.

Themed Reading List
Pick a theme, such as a mood, an upcoming holiday, a hot-button social issue, a genre, or even a setting (like "Parisian Cafe" or "Australia"). List a variety of genres and media categories and select an appropriate work for each category. For example, your category list might look like this: historical novel, mystery, contemporary novel, adult nonfiction, periodical, audio, electronic resource.

Book Playlists
Take an informal survey of library staff and volunteers--don't forget people at other libraries, especially if yours is a small branch with few staff--and compile a list of 10 books people are reading right now. Try to generate a mixture of old and new material in different genres. Call it a "Library Staff Playlist" for that time period. List the name of the book, the genre, the author, and a one-sentence summary. Also include at which library branches the book can be found.