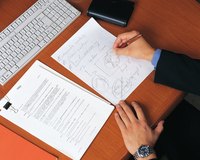 While it is impossible to declare with certainty what new businesses will succeed and which will fail, certain factors can indicate that a business is likely to thrive. Obvious environmental factors that can affect the success of a business include the economic climate, whether there is a sufficient market for the item or service being sold and the competition. Arguably the most important factors, though, are the ones under the business founder's direct control.
Experience
Extensive experience in the field would seem like a logical prerequisite to starting a business, but many people jump into entrepreneurship without sufficient depth of experience and understanding of their field. As a result, they learn "on the job"--and the time it takes a person to climb the learning curve can be all the time it takes for the business to crash and burn. Experience, both in the specific field the business will operate in and with running a business in general, is a critical factor in determining whether a business will succeed. This is particularly true if you're running a specialty business catering to knowledgeable amateurs, such as a scrapbooking supply store or a big-mountain climbing guiding company.

Planning Conservatively
When starting a business, you have to estimate a lot of figures, among them sales, revenue and expenses. A Pennsylvania State College of Agricultural Sciences article on "Top 10 Secrets for Small Business Success" advises, "To prevent headaches over unforeseen expenses, the 'ripple effect' strategy is recommended. The ripple effect allows for unexpected expenses by simply overestimating time and capital needs by 25 percent." Overestimating the amount of time and money the business will require will provide a substantial cushion that will lower the pressure on the business owner and the bottom line."

Marketing
Even if a business has developed a revolutionary product that solves a problem that has been plaguing humankind for centuries, that business can still fail--if nobody knows the product exists. "A sound marketing plan is key to the success of your business," according to a U.S. Small Business Administration article on marketing plans. A business plan, the article states, should include positioning, pricing, the competition, advertising and promotion. Marketing gets the word out about the product or service the business is selling and establishes a foundation for a respected brand.