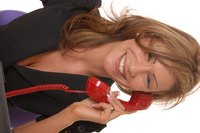 Employers often have job openings when their business expands, an employee is fired or resigns or the business reorganizes. When it's necessary to fill these openings, employers turn to business reference checks. A business reference check is a set of questions by which a potential employer verifies the work ethic and skill sets of a potential employee at previous businesses. These checks typically contain similar questions regardless of the position available.
Employment
The most important question to ask during a business reference check is whether the candidate actually was employed at the previous company. If the previous employer confirms that the candidate worked at the previous company, ask exactly when the candidate was employed. This verifies that the candidate has the number of years of experience necessary for the new work.
Leave
Inquire as to the reason why the candidate left the previous company. In most cases, a candidate has extremely legitimate reasons for leaving, such as needing a better paying position because of having a baby or needing to move for health. This question gives an idea of the candidate's aspirations and reveals whether a candidate has glossed over problems between previous management and the candidate.
Traits, Accomplishments and Improvement Needs
Ask the previous employer what the most positive accomplishments and traits are for the candidate. Follow this up with a question about what the most negative traits are and what needs work. This will help you determine what skill sets the candidate has and figure out whether they are at risk for becoming stagnant on the job.
Performance Evaluations
Find out what the results of routine performance evaluations were for the candidate. For example, ask if they exceeded expectations or did the bare minimum. Also ask if their performance followed protocols and what the candidate contributed to the job and others.
Interactions
Investigate how the candidate interacted with coworkers, employees he supervised and his managers. For instance, did they handle pressure well and resolve conflict? Or did they cave during moments of stress and fight management? Did they create a particular atmosphere in the workplace? If so, was it positive and conducive to efficient, high-quality work?
Skills
Describe the open position to the previous employer. Then ask the employer if the position sounds like one the candidate can handle given the candidate's skill set. If the employer says that the candidate may not have the skill set required, ask the employer to describe the type of position for which the candidate would be ideal. It may be that the candidate is well-qualified for another position within the new company and you could hire him for that position instead.
Additions
Conclude the business reference check by asking whether the previous employer has anything to tell you that hasn't already been addressed. Additions at the end of the business reference check often reveal helpful information about the previous employer's attitude about the candidate or the candidate's personality.