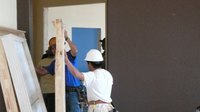 Contractors, also known as construction managers, manage both commercial and residential construction projects. Although some contractors obtain knowledge and skills through years of work experience, more job opportunities are available to those with four-year college degrees. More than 60 percent of contractors are self-employed, according to the Bureau of Labor Statistics. Contractors working in the state of Utah must obtain licensure from the Division of Occupational and Professional Licensing.
Experience
The Utah Division of Occupational and Professional Licensing requires that contractors obtain a certain amount of experience in order to be eligible for licensure. The minimum requirement is two years experience in the contracting field within the past 10 years. However, those that plan to obtain a contractor license in certain classifications have varying experience requirements. Applicants pursing a license in general engineering, general building and residential and small commercial building must have at least four years of full-time experience within the past decade. Applicants must have worked in a managerial position for at least two of those four years. Contractors working in refrigeration, carpentry, masonry, steel erection, fire suppression or air conditioning and heating must also have four years of related full-time work experience.
Examinations
A contractor must take the Utah Business and Law Examination before submitting an application for state licensure. The 60-question exam covers business organization, laws, estimation, bidding, management, taxes and safety. Some contractors will also need to take an additional exam for their particular trade or expertise. Those working in engineering, carpentry, roofing and landscaping are just a few of the contractors that will need to take the trade specialization exam.
Application
Once a contractor acquires the necessary experience and passes the required examinations, he will be able to submit the contractor license application to the Utah Division of Occupational and Professional Licensing. He must apply as a sole proprietor or a business entity. Applicants should be prepared to provide detailed information about any business partners as well as a financial history. A contractor also will need to disclose information about any criminal charges or disciplinary actions taken against her. In addition, a contractor must provide documentation that he has general liability insurance and has passed the required examinations. The application materials and fees should be mailed to the Utah Division of Occupational and Professional Licensing in Salt Lake City.