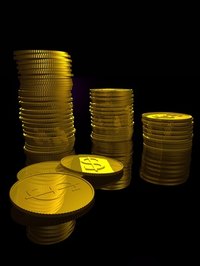 Investing in gold is unlike buying stocks or bonds. For one thing, it is a commodity that physically exists. For another, as Wealth Daily's Steve Christ says, "Gold is a static investment that produces no cash flow."
The price of gold is determined by a process called gold fixing. Twice a day, representatives from five banks convene via conference call to fix the price of gold. While the price is subject to supply and demand, several factors affect investors' desire to purchase gold.
Uses
Gold is mainly used in jewelry, electronics, computers, dentistry, medicine and aerospace. It is also used to make medals, glass and gold leaf. Any changes that impact those end markets could affect the price of gold.
Global Instability
Events such as natural disasters, political unrest and financial instability all cause the price of gold to rise or fall. Whenever investors lose faith in traditional vehicles such as stocks, bonds or real estate, they can always cash out and invest in gold. This helps them protect their assets during uncertain times. Such increases in demand send the price of gold higher.
Currency Devaluation
The demand for and price of gold both rise whenever there is a risk of currency devaluation. Investors view gold as a safe haven that will keep their assets intact until currency values have stabilized.
Inflation
Ric Edelman, president and CEO of Edelman Financial Services, says gold prices "merely reflect inflation." Higher rates of inflation lead to elevated gold prices. The reverse is not necessarily true, however. Deflation does not automatically reduce gold prices.
Oil
There is a correlation between the price of oil and the price of gold. Rising oil prices cause an increase in inflation. That in turn leads to a surge in gold prices. Political instability in oil-rich nations impacts supply, which drives oil and gold prices higher. In addition, should oil-rich countries rebel against the use of currency and insist on their oil being bought with gold, the metal's value would soar.
Hoarding and Disposal
There is a finite quantity of gold in the world, which helps add to its value. However, if one or more large investors decides to sell their gold at the same time, the extra quantity of gold available would drive down the price. Conversely, if an investor bought up large amounts of gold and hoarded it, the lack of supply would increase the price.
Bonds
While Inflation causes gold prices to go up, it also causes bond prices to go down, Edelman says. Therefore, some investors with bond heavy portfolios choose to invest in gold as a hedging strategy. Typically speaking, if bond prices alter by 1%, gold prices move 10% in the opposite direction. Bonds do not directly cause the price of gold to change. But changes in the bond market can be used to predict fluctuations in the gold market.
The Perception of Gold
The price of gold will continue to follow certain trends so long as investors believe in the merits and usefulness of the metal.