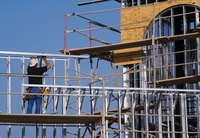 Construction projects have a wide variety of risks associated with each of them, as a large amount of physical labor is being done with dangerous pieces of equipment, often in dangerous scenarios. A lot of money is often at stake as well, which adds pressure to the people running the construction project. Knowing what these risks are before and during the project will help you to avoid them.
Labor Risks
Workers on a construction site are constantly at risk of being injured in an accident with construction equipment or while they are building, or can be injured if safety procedures are not followed. You can't guarantee that no construction workers will be injured on the project. The best you can do is minimize possible injuries or deaths. This can be done by following safety procedures exactly and posting them around the construction site. All workers should be required to wear hard hats and thick-soled shoes and know exactly where they are walking. A good insurance policy should also be in place for any workers that happen to be injured on the construction site.
Monetary Risks
As construction projects take an extended amount of time to complete, there is always risk of the economy going down or funding for the project falling through before it is completed. Little can be done about this beyond making sure all the money necessary to complete the project is secured in an account somewhere or that the initial investors will follow through with completion of the project no matter what. Unnecessary expenditures and overages should also be avoided over the course of the project, in case no more money can be given to complete it.
Environmental Risks
Environment risks are a part of many construction projects, as materials and chemicals can be used during the construction process which can pollute the surrounding area. This can lead to fines for the construction site and the company that is involved in the construction, which can be incredibly expensive or can cause the entire project to shut down. Knowing and properly following these environmental procedures will help protect the construction site from these risks, as this is something that can be prevented with good management. Hiring or assigning someone to monitor these environmental risks around a large construction site is probably worth it in the long run.
Equipment Failure and Power Outage Risks
Technical and mechanical risks also are on construction projects. Large, expensive pieces of equipment are used on construction sites and when these fail, it can be both costly to the construction project itself as well as dangerous to the workers on the site itself. These failures can cause cranes to fail or construction elevators to fall, which can cause injury or even death. Power outages often cause these equipment failures but can also create a whole host of other risks and problems for a construction site. If power is cut to surrounding areas, fines can be incurred by the site itself. Time also will be wasted, which costs money when paying a construction crew and delays when the construction project can be completed.