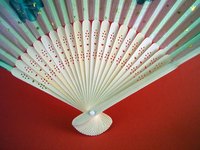 Once an essential accessory, hand fans have grown increasingly scarce as people turn more toward electronic cooling devices such as forced air in cars and homes or battery-powered misting fans. Any fan you hold in and pump with your hand qualifies as a hand fan, and while they may seem old fashioned, they have the advantage of never breaking down or requiring a refill. Craft your own hand fan before your next outdoor summer event and stave off sweat in style.
Paddle Fan
It doesn't get much simpler than a sturdy piece of paper glued to the top of a stick, which is the exact construction of the stiff-backed hand fan. Make this DIY hand fan out of decorative card stock or cut out a fancy-looking shape from a used priority post office envelope which you've coated with a few layers of spray paint. Build up layers of increasingly smaller shapes with scalloped borders to add pizzazz while increasing the strength of the fan. Increase the "green" factor of this project by using a used paint-stirring stick for the handle of this fan; repaint the entire stick to hide the used end.
Folded Hand Fan
You probably remember making a version of this hand fan craft in grade school. All you need for this craft is a sheet of stiff paper, such as card stock. Decorate both sides of the paper before you begin this project, since the craft requires a lot of handling to the face of the paper. To make this fan, lay the paper in front of you, landscape-style, and make a 1-inch vertical fold down the edge of one side, folding up and over the paper. Make another 1-inch fold on the same side, this time folding down and under the paper. Repeat this process until the entire paper is folded; hold the folded paper at the bottom, allowing the top to fan out. You might secure the bottom with clear tape, ribbon or a brad. A variation of this hand fan craft uses Popsicle sticks as supports for the outer accordion folds.
Japanese Fan Replica
For a less compact version of the hand fan, try your hand at a DIY Japanese fan. Popsicle or paint sticks are glued together in a fan shape for this project, and then a rainbow shaped piece of paper is glued on top of the frame. While the craft doesn't require it, the finished product looks more artful if a piece of rainbow-shaped paper is glued to each side of the fan frame. It doesn't matter if you decorate before or after you construct the fan. Use wood glue for the sturdiest construction.