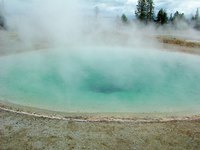 Right next to Manila on the Philippine island of Luzon is the province of Laguna. In the middle of this province, between Laguna Lake and Mount Makiling, sits the district of Barangay Pansol, about an hour's drive from Manila. Resorts around Makiling offer access to hot spring waters with therapeutic properties. These resorts range in size from small facilities meant for families and smaller groups to bigger ones capable of accommodating a large gathering. Most Pansol resorts have swimming pools, lodging facilities and added activities and attractions.
La Vista Pansol Resort
La Vista is among the larger hot spring resorts in Pansol. It has over 7,000 square meters of natural warm spring swimming pools, and amenities such as a restaurant, basketball and tennis courts, a mini-golf course and seven function rooms for weddings, conferences and seminars. It features a five-level water slide, a covered swimming pool and a treehouse. These facilities can be rented out to groups small and large.
R&R Resort
R&R is a secluded resort on a 3,000-square-meter property near Mount Makiling, from which the resort gets its medicinal sulfuric hot spring water. Ten air-conditioned cottages are available, each with a floor area of 72 square meters and accommodating up to eight people, and a 16-square-meter private pool with hydrotherapy jets. The first level has a dining and living room with a table, four chairs and two sofa beds. The second and third levels are sleeping areas. Two clean toilet-and-baths with showers are available. The resort has a restaurant and a clubhouse with conference facilities, a 250-square-meter pool of natural hot springs, a 60-square-meter pool for kids, dining sheds and a poolside karaoke wet bar.
172 Mutya Hotspring
This small hot spring resort is a three-bedroom Spanish-inspired house amid the lush green trees of Mount Makiling, ideal for a family with children or a small group. It has two swimming pools, one for adults and the other for children, both filled with natural spring waters. The children's pool is covered to shield children from the strong noontime sun. It also has a a nipa hut that can be used for a siesta or a picnic lunch. A nice view of the mountains is visible from the garden and the second floor of the house.