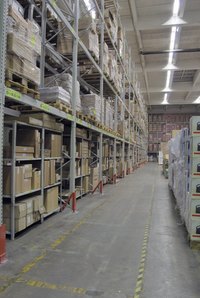 Many inventory management systems exist in the marketplace, each offering specific benefits to a company if it buys their system. But all inventory management systems offer certain benefits regardless of whose name is on the software. These benefits come from the fact that inventory management software performs robust mathematical calculations accurately and quickly. It's this speed and accuracy that brings multiple benefits to an organization.
Safeguards
When used correctly and within a set of defined inventory policies, an inventory management system helps eliminate human error. It relies on pre-defined rules and policies designed during configuration. Although most systems require humans to make the necessary transactions in the system, a well-implemented system has safeguards against making transactions that go against the company's inventory management policies. For instance, if a company has 15 units of a product in the warehouse but the available-to-promise screen (the screen that shows how many total units minus how many units already committed to sales—also called ATP) shows five units ATP, the system's policies safeguard against shipping more than the five units ATP. It takes human intervention, typically in the form of an authorized user, to override the policies.
Accuracy
Some companies have millions of finished goods, raw material or component inventory parts, making it nearly impossible to keep an accurate count of these parts. Many inaccuracies would happen without the robust mathematical computations found in an inventory management system. Years ago, inventory was managed by the card system. Employees manually documented incoming inventory data on index cards. This method kept was very inaccurate. The introduction of computerized inventory management systems greatly increased the accuracy of a company's inventory. Today, inventory systems manage millions of bits of data and have the ability to maintain 100 percent accurate inventory.
Efficiency
Inventory management systems increase operational efficiency. A good inventory management system tracks every inventory movement and transaction made. This greatly increases the efficiency of the warehouse. For the warehouse that uses a pick ticket to retrieve inventory, the inventory management system tells the warehouse worker exactly where to go to retrieve the inventory, what inventory to retrieve and how much to retrieve.
Considerations
Although an inventory management system offers many benefits to the business owner, it takes more than owning the system to realize these benefits. The old adage garbage in-garbage out applies here. Employees who do not use the system properly and enter transactions without regard to company policy do more harm than good. In order to realize the benefits from having a system, the company must develop policies to manage the inventory, train employees in the proper use of the system and provide the necessary resources to manage system activity. (See Reference 1)