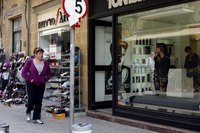 An effective window display can be a powerful -- and free -- marketing tool for hair and nail salons. A creative window display not only grabs the attention of passers-by, but it can also keep your salon in potential customers' minds and thus strengthen your brand.
Introduce Movement
Capture attention with window displays that move. You can attach ribbons or other hanging decorations from the display ceiling and then use a small fan placed in an inconspicuous location to create a gentle breeze. Or you could use rotating stands to create motion and provide a way for potential customers to see a new hairstyle from all sides. A hair salon could use live-action models that move slightly every 30 seconds or so.
Be True and Relevant
Display only what you use or offer for sale and what your stylists have the ability to do. Always remember that customers may visit your salon based on what they see in your window display. Setting up a window display featuring hairstyles that look fantastic but are beyond the skills of your stylists or displaying accessories you don't sell might irritate potential customers and drive them away. In contrast, a series of actual before and after photos can have the opposite effect.
Display Complete Looks
Create a window display that features two complete looks. For instance, show customers how the same haircut can go from day to night by displaying a daytime look on the left side of the window and the nighttime version on the right. Arrange the products used to create each look around a poster or mannequin head. Offer products used to create the featured looks at sale prices. If your salon sells additional beauty products, such as cosmetics or nail polish, display these items as well.
Decorate With Ingredients
Incorporate product ingredients into your window display. This can be an especially good way to showcase and promote products containing natural ingredients. Create a variety of odd-numbered arrangements, which are more appealing to passers-by, according to the Lockhart Meyer Marketing Agency. Each should consist of products that contain similar ingredients. Arrange product ingredients in clear glass bowls or baskets around the display. Examples include mint, vanilla beans, coconuts, fruit, vitamin E capsules, olive oil and essential oils, such as peppermint, lavender and rosemary.