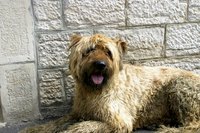 If your pooch's breath knocks you out every time you get close to him, digestive troubles and dental issues are two possible culprits. A broad array of other conditions can lead to halitosis in canines, however. If your dog has abnormally pungent breath, take him to the veterinarian for a checkup.
Periodontal Disease and Halitosis
Chronic bad breath in canines can be a sign of many different health ailments, but periodontal disease is the No. 1 cause of halitosis. When a dog has periodontal disease, bacteria, pieces of food and saliva inside of his mouth come together to create plaque. When plaque gets older and the severity of periodontal disease increases, more harmful types of bacteria emerge. Bacteria is the reason behind the highly unpleasant breath in dogs with periodontal disease, which can bring on loss of teeth in canines.
Other Medical Conditions
Other medical conditions that can cause halitosis in dogs include gastrointestinal disorders, metabolic diseases such as kidney disease, respiratory diseases including various sinus infections, diabetes mellitus, lip fold infections and oral diseases in general. Many types of oral diseases can lead to halitosis in dogs. Some examples are cancer, tonsillitis and various autoimmune conditions.
If you pay attention to the specific smell of your pet's breath, it might provide some valuable hints regarding his medical problem. If his breath smells bizarrely fruity or sweet, diabetes could be the cause. If his breath is reminiscent of urine, kidney disease could be the reason. If you notice that your pet's breath smells abnormally bad or strange, take him to the veterinarian immediately.
Wacky Eating Habits
Unusual eating habits can cause halitosis in dogs. If your pooch has coprophagia, he consumes fecal matter from himself or from another animal. If you're concerned that coprophagia could be responsible for your dog's halitosis, schedule an appointment with the veterinarian as soon as possible. Nutritional deficiencies and inadequate food intake can cause coprophagia in pets. Dogs who don't consume sufficient vitamin K or vitamin B, for example, may develop coprophagia.
Halitosis Management
If your dog's halitosis is caused by a medical problem, your veterinarian can diagnose him by performing a mouth examination and laboratory tests such as X-rays. If the halitosis is a result of plaque, professional cleaning might be necessary. If the foul breath is a result of another medical condition, your vet will determine a suitable treatment plan.
If your pooch is healthy but still has breath that's less than fresh and pleasant, you can take control of the issue by brushing his teeth on a daily basis. You should brush your pet's teeth regularly even if he doesn't have a breath problem, to keep dental diseases at bay. Always use toothpaste that's designed exclusively for canine use. Toothpaste made for people can trigger tummy troubles in dogs. Some doggy treats can help freshen canine breath. Consult your veterinarian for reputable and safe suggestions for treats.