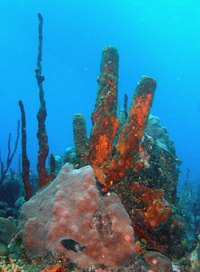 Study the current condition of the world's coral reefs and learn some sad predictions for the future. At the current rate of destruction, due to overfishing, coral bleaching, climate change and pollution, scientists predict the world will lose 70 percent of all corals by 2050, according to the Nature Conservancy. This statistic is staggering considering the 25 percent of all marine fish species living within the coral reefs. Without reefs, specific treatments for heart disease, cancer and HIV would remain undiscovered.
Leatherback Turtle
Dive deep to see the endangered leatherback turtle, considered the largest and deepest diving sea turtle. Look for this turtle in open waters (found in every ocean but the Arctic) swimming around reefs. The leatherback also migrates the most of any sea turtle, swimming thousands of miles each year and grows to a weight between 500 to 2,000 lbs. The adult leatherback can reach four to eight feet in length. A cusp on each side of the jaw and clawless limbs help distinguish the leatherback. Recent estimates—dated 2007—indicate a population of 34,000 to 94,000 leatherback turtles worldwide, a decline compared to the 116,000 leatherbacks in 1982.
Elkhorn and Staghorn Coral
Considered two of the three most important Caribbean corals, the Elkhorn and Staghorn corals provide vital fish habitat. Both corals, on the U.S. Fish and Wildlife's threatened list, are fast growing, branching corals. Elkhorn corals (named for this coral's thick, anter-like branches) increase in length by two to four inches each year and reach a maximum size in 10 to 12 years. Staghorn coral grows the fastest of all western Atlantic corals and grows approximately four to six inches each year. This coral may reach more than six feet in length with cylindrical branches.
West Indian Manatee
Find endangered West Indian manatees swimming around the coral reefs of Florida's Atlantic coastline. These marine mammals, also called sea cows, are herbivores and feed on the plant life found in the coral reefs, open ocean, estuaries and freshwater areas. Adult manatees grow to about nine feet long and weigh about 1,000 lbs. Manatees resemble seals with large, gray bodies, whiskers and a paddle-shaped tail.
Hawksbill Turtle
Swim around the caves and ledges of a coral reef and you may catch a glimpse of the endangered hawksbill turtle at rest. The hawksbill, named after the turtle's large hooked beak, uses the same resting spot every day, usually, in some hidden patch of a coral reef and relies on the reef for a food supply. With adult lengths between 30 and 36 inches long, an adult hawksbill reaches a weight of 100 to 200 lbs. making this turtle small when compared to other sea turtles. One of seven sea turtle species found in the world, the hawksbill has thick, overlapping scales (also called skutes) that keep the turtles from harm when bumping against sharp coral.