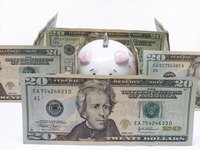 An IRA is an individual retirement account that carries tax and other advantages. You can contribute money up to an IRS-specified limit until you reach age 70 1/2. The money must be earned income, defined by the IRS as "wages, salaries, commissions, tips, bonuses, or net income from self-employment." Alimony may also be eligible. IRA benefits include deducting contributions from your taxes, deferring taxes on investment income, and setting aside money for a first-home downpayment.
Contribution Deductions
The IRS allows you to contribute to a traditional IRA to a preset limit each year. That limit may increase once you reach age 50. The contribution limits are re-evaluated often and subject to change. Whether you can deduct your IRA contribution depends on your adjusted gross income, your filing status, and whether you also participate in an employer-sponsored plan, such as a 401k or 403b. If, for example, you and your spouse do not contribute to an employer-sponsored plan, you typically are eligible to deduct your entire contribution. However, if your adjusted gross income is too high or you participate in an employer-sponsored plan, the deductible amount of your IRA contribution will be reduced or eliminated. In 2010, if you earn more than $177,000, you cannot deduct your IRA contributions
Tax-Deferred Earnings
One of the primary advantages of a traditional IRA is that the money you invest grows tax-deferred. You do not have to pay capital gains or other taxes on the earnings from your investments. This works especially well if the stocks, bonds or mutual funds in which your IRA funds are invested generate excellent earnings. Once you start to withdraw IRA money, those withdrawals will be taxed as ordinary income.
First-Time Home Savings
One benefit of a traditional IRA is that you can withdraw up to $10,000 penalty-free for the purchase of a first home. The IRS allows you to take advantage of this early withdrawal option even if you have owned a home, provided it was not owned within two years of the early withdrawal. Further, you can use the penalty-exempt $10,000 from your IRA to fund the purchase of a home by your spouse, your parents, your children or your grandchildren. Therefore, you can view an IRA as a tax-deferred downpayment savings vehicle.