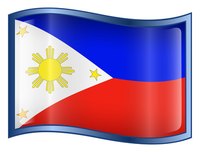 Nasugbu is in the province of Batangas and has some of the Philippines' finest beaches, many with clear blue waters, coves and white sands. Resorts have been and continue to be developed along the shores of these beaches. Luxurious and not so luxurious accommodations and dining facilities are found here, all catering to local and foreign tourists. A number of them have banquet halls and offer water sports such as diving, swimming and waterskiing, in addition to having scenic sunsets and surroundings.
JohnDel Beach Resort
After local businessman John Ilao started this resort in the 1980s, a number of similar facilities sprouted along the Apacible Boulevard area where Johndel stands. Located about 40 miles or two hours from the Philippine capital of Manila, JohnDel Beach Resort has 36 fully air-conditioned rooms with TV, ref and hot and cold shower. Guests may also choose to stay in any of two native cottages. There is a pool for swimming, even as swimming is possible in the South China Sea fronting the resort. A boat ride along the length of Nasugbu and other nearby beaches is a recommended fun activity. JohnDel has a multi-function room that seats up to 150 people.
JohnDel Beach Resort 25 A.R. Apacible Blvd., Nasugbu Batangas, Philippines 001+63-43-9311387 johndelresort.net/
Villa Rebekah Resort & Restaurant
The two-hour ride from Metro Manila to Villa Rebekah can include a stop in Tagaytay City, in one of the many hillside resorts or restaurants overlooking scenic Taal Lake. Villa Rebekah Resorts, with lots of trees, gardens and birds surrounding it, is across the street from Nasugbu beach. Swimming in the sea is a good alternative to the resort's pool. At night, a band plays atop a large stage that overlooks the dance floor. Guests are encouraged to sing with the band or to dance to its music. This can at times go on until 3 a.m. Sports like basketball, volleyball, badminton, billiards and darts are played in the daytime. For those choosing to cook by the beach, a grill is provided for free, even as the resort has a restaurant.
Villa Rebekah Resort & Restaurant Apacible Blvd., Nasugbu West Batangas, Philippines 001+63-43–9311108 villarebekah.com
White Cove Resort
White Cove, the latest resort to open in Nasugbu, is about 45 minutes from Tagaytay. A bank acquired this property via a loan settlement and is developing it with a large Filipino conglomerate. This resort has a white beach and clear blue waters, and it offers both condominium units and hotel rooms. All hotel rooms have air-conditioners, hot and cold shower and bath. There is a restaurant serving buffet breakfast and light meals on weekends. Dalampasigan Restaurant, a 15-minute drive from the hotel, serves home-cooked comfort food. Condominium units are available for lease or sale. Kayaks (single and double) and jet skis are available for rent. White Cove is also known for its scenic sunsets.
White Cove Resort Far East Road, Piloto, Wawa Nasugbu, Batangas 001+63-43-931-3554