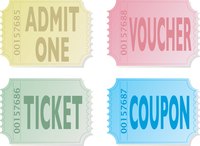 Brainstorming original fundraising ideas for college events takes time and effort. College fundraisers are expected to be unique and hold people's interest, as car washes and bake sales no longer are impressive. Make sure that you organize every aspect of your fundraiser, or your efforts to fund an event could backfire and you will have to start from scratch. Make sure to create posters that advertise all the important information, such as where, when, the type of fundraising and the event being funded.
Dancing Lesson
Find a local dancer--a professionally trained student or parent, or an instructor from a local community center or gym--who feels comfortable enough to teach in front of a group of people. You will need to find someone who is willing to teach for a small payment or, better yet, donate their time and skills. Try to find a dancer who is familiar with a group-friendly dance form such as tango, instead of something more complex like ballet. Find a date that is convenient for her and rent the school's auditorium or gym in advance. If possible, plan the event for the nighttime to accommodate people who can come after work or school. Charge an admission fee to cover costs and raise funds.
Healthy Cooking Class
Find a local chef who will donate his time and expertise for a school fundraiser. Have him teach people how to cook something healthy and simple, such as a chicken cobb salad or a chicken noodle stir-fry. This fundraiser will be especially good for college students to learn how to cook healthy food for themselves. Limit the amount of people in the cooking class and plan to have several classes so that it does not get too crowded, but you can still meet your fundraising goal. To keep the cost low, ask for donations of cooking materials or go to a discount store to buy the most expensive items like hotplates. Buy the food ingredients in bulk at a wholesale store.
College Trivia Night
Collect different facts about the college and arrange them in three categories: easy, medium and hard. Assign a different prize to each question, such as a college pennant for the easy questions, a college T-shirt for the medium questions and front row seats to a theater production or sporting event for the harder questions. Charge admission for the event.