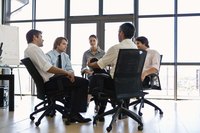 Communication strategies are important tools of business success. A communication strategy outlines the structure of business or professional communication. An effective communication strategy leads to effective communication by creating a common ground of understanding, a system, and defined business or professional objectives. Communication strategy tools include outlines, teamwork, team meetings and feedback.
Teamwork
According to the International Development Research Centre, a communication strategy benefits from being developed through teamwork. By turning strategy development into a collective process, different perspectives can be incorporated into the strategy. For example, the communication strategy of a retail store can be more effective if managers let store workers help develop the strategy.
Strategy Outline
The strategy outline helps keep the strategy development team organized. A store's manager would draft a communication strategy outline. The outline would then be passed along to some workers to analyze and comment on. To finalize the strategy outline, managers would hold a meeting to discuss the workers' insights and what changes would be made to complete the outline. The communication strategy outline should define the communication system and the company's goals.
Team Meetings
Team meetings should be conducted on a regular basis to evaluate the effectiveness of the communication strategy. The evaluation of the communication strategy should include how well the strategy is being followed and whatever progress has been made on achieving the strategy's objectives. If the communication strategy is being followed but progress toward company goals is not being made, the communication strategy may need to be changed.
Feedback
The International Development Research Centre notes that communication is a two-way process. Gathering feedback helps evaluate the communication strategy and determine any changes that are needed. For example, a university may give students a survey to determine how well college officials communicate with the student body. If the survey shows students find the university's communication to be poor, the university can implement new methods and tools of communication into the school's communication strategy.