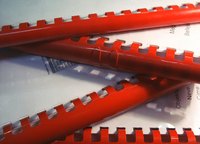 Students, teachers, and administrative professionals are often in need of products to help them bind documents. Whether it's a school report, lesson text or business plan, there are binding solutions for all sorts of documents of varying shapes and sizes.
Binding combs
Binding combs are plastic or wire coils that bind a document by winding through several rectangular holes, created with a binding machine. Plastic binding combs can be removed from the document with relative ease; however, wire binding coils require some effort to pull out and often rip the paper. Basic binding machines can only punch about ten pages at a time and are manually operated with a lever, whereas higher-end binding machines can punch up to 30 pages at a time with the click of a button.
Staples
Stapling is one of the most common solutions for binding documents. Staples come in small, regular, and large industrial-size. Industrial-size staples are thicker than the average staple and require a special stapler that's twice the size of the average desktop stapler. Documents bound with staples are usually stapled at the top left-hand corner or stapled a few times along the left-hand margin so they can be opened like a book.
Presentation Folders
Certain pocket or presentation folders feature metal teeth which loop through holes in the paper and bend to secure them in place. These are most commonly used by grade school students for projects and reports, and hold up to 100 sheets of paper.
Slide and lock folders
A great way to bind a document without creating any holes in the paper is to use a folder with a plastic slide lock. These folders typically feature a clear plastic cover and a long piece of plastic that slides onto the left hand side and locks the papers and cover in place. Although they make binding more convenient, they can only hold about 20 sheets of paper.
Binders
Binders with plastic covers and metal clasps come in a wide variety of sizes and styles. The most popular is the three-ring binder which accommodates the three-hole punch in loose leaf. Binders are best used as short-term binding solutions for documents that aren't often handled, as sheets easily rip out and need to be repaired using reinforcement stickers.
String
For crafts or other creative manuscripts, you can use string to bind paper together. The string can be threaded through holes on the left-hand side of the document and tied at the top or bottom.
Clips
Paper clips, both vinyl-coated and metal are a popular solution for temporary binding. A more secure type of paper clip is the "butterfly" or "bulldog" clip, which features a spring and clamps down on papers to hold them together.