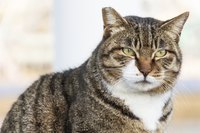 Not only can ticks make felines feel uncomfortable, they sometimes bring upon disease, blood loss and other problems. You should know what ticks and their bites look like, and how your cat will act if she's infested.
Noticing Ticks on Cats
Ticks usually aren't hard to locate on lighter-colored felines' bodies, especially in comparison with fleas. These wingless parasites, prior to biting, can be as small as pinheads. Once they do bite, however, they swell with blood and can bloat to the size of peas or even grapes.
Ticks that appear on cats are often reddish-brown in color. Some ticks in the United States are pale gray, blackish or deep brown. Once these eight-legged creatures discover suitable spots on their hosts' bodies, the ticks typically remain there for extended periods of time, often a week, busily feeding on blood.
Searching Your Cat for Ticks
If you suspect that your poor cat might have ticks, assess his coat carefully for indications of these pesky parasites. Begin at your pet's head. Concentrate on sections of his fur that are particularly sparse, where ticks are easier to spot. Comb your cutie's fur against the direction of growth. Look for bumps or lumps that could signify ticks. If you don't have a comb easily available, search for ticks on your cat by massaging your hands over his coat. If your pet's fur is light or particularly smooth-coated, you might be spot ticks without using your hands or a comb.
Be meticulous: Don't neglect any area of your cat's body. Look beneath his collar and around his anus. Remember, ticks are enticed by dark, concealed portions of their hosts' bodies. It isn't uncommon to spot ticks in animals' armpits, ears and groins.
Common Symptoms of Ticks
If your cat has ticks, he might experience itchiness, and you might catch him biting at the surface of his skin. Other common indications of cats with tick bites include exhaustion, swelling of the joints, joint stiffness, fever and loss of appetite. Such symptoms may signify that your cat has been bitten by a significant number of ticks. As soon as you suspect ticks in your cat, contact your veterinarian for urgent attention.
Consequences of Tick Infestation
Ticks can cause a variety of severe health situations to cats. These include skin infections and diseases such as mycoplasma, babesia and cytauxzoonosis. Some possible signs of these diseases are low appetite, fever, intense anemia and jaundice. Never ignore possible indications of these diseases. Cytauxzoonosis, for example, can sometimes lead to fatal results in felines.
Vulnerable Cats
Don't assume that your cat doesn't have ticks just because you haven't observed any symptoms in him. It isn't common for ticks to bring upon symptoms in cats that are easily visible. If your cat has ticks unnoticed, there's a chance you won't have a clue about the situation.
Some cats are especially vulnerable to ticks. If your cat spends a lot of time outside and resides in an area that has a significant tick population, he has a higher chance of getting ticks. The United States' southern region, for example, has a lot of ticks.