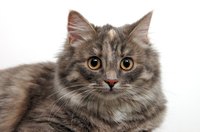 Cats have several advantages over other pets, many of which are related to convenience for their owners since they do not require constant supervision. Owners of cats often find that there is little more rewarding than coming home to a happy, purring cat rubbing against their ankles as they step into their house.
Exercise
You can rely on most cats to be responsible for their own exercise. Running after a speck of dust on the floor, hopping atop a cat tower or a windowsill, and stalking and capturing bugs in the grass are all very good examples of the ways cats stay in shape. You can also train a cat to walk on a leash to take it outside safely. Few cats resist harnesses after minimal effort and can walked in the same way a dog would be.
Simple Living Arrangements
Cats do not require an open backyard with a fence or a roomy house to feel comfortable. However, some breeds may feel safer if they have a perch high above the rest of the room so they can survey their domain. Cats can usually be allowed to roam the house while you are at work with little risk of them making a mess. However if they do have a limited amount of space, cat "trees", which are stand alone constructions of varying size that allow cats to perch at multiple heights, take up very little room and allow the cat a place to sleep as well as a place to play.
Travel Conveniences
If you travel for two or three days, you can usually leave a cat at home with an ample supply of food and water, a clean litter box and a comfortable environment. Most cats will adapt well to this situation. If you decide to bring your pet with you, cats are usually small enough to fit in a carrier beneath an airline seat allowing you to monitor your pet directly.
Expenses
Although there are additional costs to keeping a cat, such as litter for the litter box, cats are usually less expensive to keep as pets than other animals. Heartworm protection or flea treatment for a cat will cost less than the same treatments for a dog of the same size in most veterinary clinics. Should your cat require a surgical procedure, these, too, tend to be less expensive for cats than for other animals of similar size. Cats do not require visits to the groomer on a regular basis unless they have exceptionally long coats. Food for your cat will be cheaper due to the small portions cats consume.