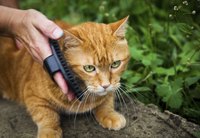 Today's kitty groomers can give your feline friend a variety of unique hairstyles. Whether you want a simple shave to keep your kitty mat-free or a more complex lion cut, you'll need to consult with your kitty's stylist to see what will work best for your feline friend.
Cat Hairstyles to Consider
A common hairstyle for cats is the lion cut. This cut involves shaving most of the body, leaving only the hair around the head, feet and tip of the tail. A belly shave is a simple way to prevent matted fur on long-haired cats in their tummy area, while a hygiene cut involves shaving your kitty's backside to prevent any feces or urine from sticking to her fur. A comb cub involves shortening a long-haired kitty's fur to between 1/2 and 1 inch in length to give her the appearance of a short-haired cat. These types of cuts typically are given to long-haired kitties to prevent hairballs and matting, although some, like the lion cut or belly shave work well with shorter-haired cats too.
Styling Your Kitty
You can have a groomer give your cat all kinds of interesting styles, including those that leave a strip of hair along her spine to give your kitty a "mohawk" or make her look like a dinosaur. Keep in mind that hair regrowth usually takes around two to three months before another visit to the groomer is needed. Always have a professional groomer style your feline's fur to avoid injuring your kitty with clippers or scissors.