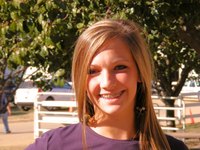 Braces are a part of almost every young person's life. While there are now other options besides traditional braces, such as behind-the-teeth braces, tooth-colored braces and invisible braces trays, these options are often much more expensive. Consequently, many parents still choose traditional braces for their children. Choosing a fun color for braces can help some children enjoy the process. As long as you use common sense, choosing braces colors will be a fun event that you can actually look forward to.
Teeth Brightening
Certain colors help your teeth appear whiter than others. While some children may not care about this, older children and adults will find these color combinations beneficial. Black is a contrast color that makes the teeth appear whiter. Yellow will also increase the white appearance of the teeth. Bright colors will also help teeth appear whiter, unless the teeth are already extremely yellow. Tooth-colored braces help blend in with the teeth if you do not want your braces to be quite so noticeable.
Favorite Colors
Younger children may enjoy choosing their favorite colors for their braces. Pinks and purples are favorites with girls, while boys may enjoy blues, oranges, reds and other bright colors. Some dentists even offer glow-in-the-dark braces that young children may find exciting.
Holiday Themes
One fun color combination for braces revolves around holiday themes. Red and green can match Christmas. Red, white and blue will match Independence Day. Use pink and red for Valentine's Day. Thanksgiving colors could be red and yellow. Halloween braces could use black and orange, and for St. Patrick's Day, you could choose bright green braces.
Mixed Colors
If you do not like the idea of using just one color on your braces, you have the option of choosing multiple colors at many dentists' offices. The trick is to choose colors that work well together and do not clash with your teeth. Blue and orange is a striking color. Neon green, orange, yellow and pink produce a striking effect. You could even have a rainbow of blue, red, green, yellow, purple and orange. You can mix school colors for team spirit.
Colors to Avoid
Although there are almost endless color combinations for braces, there are some colors to avoid. Dark green is not advisable because it can look like food is stuck between your teeth. White will make teeth look darker. Brown will make teeth look dirty. Clear or metal colored braces will highlight any food particles that get stuck inside the braces.