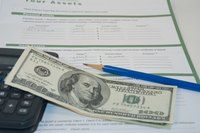 As of 2010, there are no limits on how much money you can roll over to a Roth IRA from a 401k. There are no limits on how much you can make to initiate a Roth IRA rollover. And though income limits remain that determine who may contribute to a Roth IRA, high earners can skirt around it with a new loophole. That said, the rollover rules are still quite complicated.
No Income Limits for Rollovers
In 2010, the federal government permanently repealed rules that disallowed Roth IRA rollovers for people who earned more than $100,000. Now, anyone may roll over a 401k or traditional IRA into a Roth IRA.
Roth IRAs Income Limits
People who file jointly with their spouses need to make less than $167,000 to contribute to a Roth IRA in 2010; for single filers, the limit is $105,000. Those who make too much to open a Roth IRA directly should open a nondeductible traditional IRA first, because it has no income limits. Once the 401k funds are safely deposited, account owners can convert the non-deductible IRA to a Roth IRA. This is allowed because there are now no income limits that bar Roth IRA conversions.
Taxes Due
Contributions to 401ks are known as "pretax," because the account owner can write off 100 percent of the deposit each year. Roth contributions are "after-tax," because the account owner deposits income into a Roth IRA after paying taxes on it. Because of this, the IRS wants its taxes back on any 401k funds rolled over to a Roth IRA. People who make the rollover in 2010 may spread out the bill between 2011 and 2012; in subsequent years, the fill tax bill will be due the following year.
Federal Witholding Rules
There are two options for rolling over a 401k to a Roth IRA. Account owners can request a direct trustee-to-trustee transfer, or initiate a 60-day rollover, in which they withdraw the money and deposit it themselves at a new institution. Those who go the 60-day-rollover route are subject to 20 percent federal tax withholding; those who use the direct transfer method are exempt.