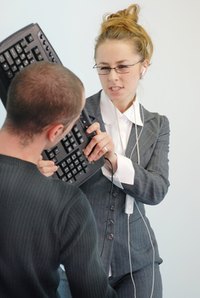 Conflict is, unfortunately, an inevitability in business. Workplaces built out of a mixture of different personality types, and on occasion these personalities clash. Conflicts arise over a number of different topics, and it is important to reach a resolution quickly and efficiently, in order to prevent a loss of morale and, subsequently, productivity.
Inter-Personal Conflict
A common type of conflict that arises in the workplace is between two colleagues. This can arise from a number of reasons, such as differences in personality and opinion. Each party should meet under the mediation of their manager to establish the root causes of their conflict and formulate ways of overcoming their difficulties.
Inter-Group Conflict
Conflict can also arise within a group if members feel that one or more individuals are not pulling their weight, or are actively seeking to disrupt the smooth collaboration of the group.
This may lead to the removal of the offending parties from the group before the conflict adversely affects efficiency.
Staff-Manager Conflict
Conflicts may arise between a member of staff and her manager when she perceives the manager is incompetent or an inadequate leader. Resolve these disputes through simply communicating concerns and anxieties, with each party agreeing on how to move on. Staff members should treat managers with respect at all times.
Cultural Differences
On occasion, conflicts arise within the workplace on account of cultural differences between two or more individuals. This often arises through issues with effective communication, but sometimes the reason for the dispute is based on religion or race. In this case, take swift action to discipline the offending individual and resolve any discriminatory action.