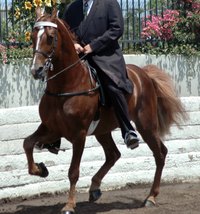 Tennessee Walking Horses are a breed named for their unique, exaggerated gait. Instead of the standard walk, trot, and canter that most other horses have, the Tennessee Walking Horse (also called the Tennessee Walker) has a flat walk, a running walk, and a relaxed canter. The horse will bob his head and twitch his ears in rhythm with his feet during either of the walks. Since the Tennessee Walker is such a unique breed, some genetic problems have developed over years of selective breeding.
EPSSM
Equine Polysaccharide Storage Myopathy (EPSSM) is a genetic disorder that appears frequently in Tennessee Walkers. It's a neuromuscular disorder that manifests as an abnormal gait, back pain, muscular atrophy, and post-anesthetic myopathy. This disorder is not unique to Tennessee Walkers—it also appears in quarterhorses and other warmbloods—but it is common in them.

Moon Blindness
Tennessee Walkers are prone to Equine Recurrent Uveitis (ERU), otherwise known as "moon blindness." As of 2010, ERU is believed to be a genetic disorder, but this hasn't been proven yet. If left untreated, ERU can lead to permanent blindness.

Joint Problems
Tennessee Walkers are also prone to joint problems, which occur more frequently in horses that perform in shows. Show horses are asked to carry their weight in the rear, freeing up their front legs for high leg lifts and other unnatural movements. This leads to hock, stifle, and rear fetlock diseases and injuries.