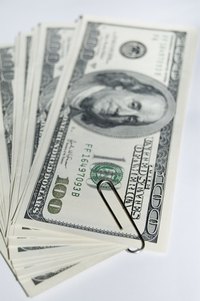 Many people are familiar with the investment terms "stocks" and "bonds." A stock represents ownership in the company that could increase or decrease in value depending on the company performance, according to the Securities and Exchange Commission. A corporate bond is a loan you make to the company that has a defined payment schedule that returns your investment and an interest payment schedule as well. While a corporate bond sounds like a good investment, it does have disadvantages.
Company credit rating
When a company's credit is considered stable, it is easier for that company to sell bonds. But if the company's credit rating is devalued, then there is a risk that current corporate bond holders could be stuck with bonds that have dropped in value and will be difficult to sell, according to the online investing resource Investopedia. A company that is seen as having an unstable credit rating will see its bond returns drop. When that happens, bond owners are forced to hold onto low return bonds because no one on the open market will want to buy them.
Liquidity
Because they are considered long-term investments, bonds have a low liquidity, according to small business resource the Alabama Cooperative Extension System. A low liquidity means that it is more difficult to sell a corporate bond than it is a stock. A stock is tied to the short-term performance of a company as a stock price changes constantly during the business day. The bond price takes longer to be affected -- and can be affected for a much longer period of time than a stock. This makes it difficult to sell a corporate bond when its value drops.
Call risk
A call is when the issuer of a corporate bond returns the investor's money and calls in the bond. According to the Securities Industry and Financial Markets Association's online resource Investing in Bonds, if an investor paid more than the face value of the bond, hoping for a large interest return, he or she will get only the face value back in a call. This means loss of principle paid. An investor who paid face value for a bond will have to reinvest his or her money if the bond is called and would do so at a lower interest rate, therefore missing out on income.