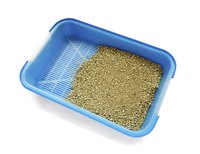 Megacolon, otherwise known as an impacted colon, occurs when your cat's colon becomes enlarged due to an excessive accumulation of waste. By understanding what megacolon is and how it occurs, you may be able to help prevent your cat from suffering through multiple bouts of this uncomfortable condition.
Understanding Megacolon
Megacolon occurs when your cat does not excrete the bodily waste from his colon effectively. The waste builds up inside the colon, causing the colon to expand. Megacolon will cause your cat to become constipated, possibly to the point where he is unable to release either feces or gas from his bowels. Cats can be born with megacolon or they can develop this condition over the course of time. When a cat is born with megacolon, the condition is usually the result of the smooth muscle in the colon not being strong enough to push out feces. The condition can develop later in life due to diet, narrowing of the pelvis, fractures, tumors or even as the result of behavioral issues.
Symptoms of Megacolon
A cat with megacolon can display a variety of symptoms, depending on how severe the condition is. Symptoms include constipation, a change in elimination habits, difficulty defecating, straining while defecating, blood in his stool, elimination of only small amounts of either loose or very dry stool, vomiting, dehydrating, loss of appetite, lethargy and abdominal pain. If you notice any of these symptoms, you should take your cat to the veterinarian for a thorough medical examination. Your veterinarian will be able to diagnose your cat as well as develop a plan for how to treat the condition as well as prevent or limit recurrences.
Diagnosing Megacolon
Your veterinarian will use a combination of your cat's current symptoms and his medical history to diagnose megacolon. Your veterinarian will perform a physical exam of your cat, including a rectal exam to check for a hardened or enlarged colon as well as the presence of excessive amounts of feces. Your veterinarian also may choose to X-ray your cat to determine whether your cat is suffering from an abdominal mass or if his condition is due to megacolon. Your veterinarian will use the X-rays to check for problems that could be causing the megacolon, including pelvis fractures, tumors or the presence of foreign objects.
Treating Megacolon
Your veterinarian will use the severity of your cat's condition to determine how to best treat your cat's megacolon. Dehydration commonly occurs with megacolon. Your veterinarian probably will choose to get your cat rehydrated before he attempts any other treatments. This may be done naturally or by using intravenous fluids. After your cat is properly hydrated, your veterinarian may prescribe a laxative, perform an enema or even remove the feces surgically.
Long-Term Treatment
Once the initial treatment has been completed, your veterinarian will help you modify your cat's diet and lifestyle. You may need to add more fiber to your cat's diet, encourage him to drink more fluids and address any contributing behavioral issues. For example, your cat may not want to share the litter box with other felines. Your veterinarian also may put your cat on a stool softener or suggest you give him a dietary supplement such as slippery elm, which is a lubricant commonly used for pets with gastrointestinal problems.