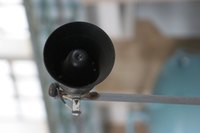 Business communications take a variety of forms and serve a number of functions. When businesses use communications tactics well, they are more successful and reap greater rewards from their efforts. Poor use of communications, or lack of communications, can spell the end for your product simply because public perception does not favor you.
Raise Awareness
The primary goal of business communications is to raise awareness among your target audiences. Consumers must know about your product but also about your company brand. It doesn't help to convince shoppers to buy bottled water if you don't also convince them that your bottled water is the best. Creating name recognition and positive feelings in consumers is key to driving the success of your brand. Corporate naming, logos, advertising and market alignment are all methods of positioning your company and raising awareness.

Tell Your Story
Relying on word-of-mouth to sell your product works as long as that word-of-mouth is positive and consistent. When your company has unsatisfied customers sharing their perceptions with others, your brand is being harmed. Businesses often use communications tactics to tell their side of the story. Whether you are responding to a global crisis created by mismanagement of your product or getting the word out about a recall, you must be involved in the conversation when something negative is being said about your company. Companies that take a "no comment" approach often find themselves joining the conversation much later than they should have, and with more brand rescuing to do.

Market Positioning
Although professional taste-test producers would disagree, the fact is that most people cannot tell the difference between competing products in blind tests. Luckily for your business, there are no blind shopping markets. Consumers see and compare various competing products, and businesses use communications resources to differentiate themselves from their competitors. Whether your unique factor is the way you run your company or the percentage of revenue you donate to charity, informing consumers about how you're different is key to earning their recognition and loyalty.