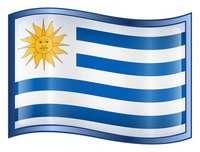 Uruguay, the small South American country nestled between Brazil and Argentina, is famed for its grilled meat (asado), cultural traditions (Tango and soccer) and the beaches that line its Atlantic coast. Uruguay is also known for providing a high quality of life at a relatively inexpensive price, a reason many people, including retirees, immigrate to the country.
Residency Basics
A foreigner must first apply for residency in Uruguay at the immigration office in her country. The general requirements for residency include property ownership in Uruguay, proof of income and the ability to gain employment in Uruguay (an already acquired work permit) and a relatively clean U.S. police record.
An individual on a temporary visa, such a s tourist visa, can switch his temporary status to "applicant for legal resident" if he has not exceeded 180 days stay in Uruguay.
After a person goes through the process and establishes herself as a resident, she cannot leave Uruguay for more than six months at a time.
Residency Documents
Applicants must provide a birth certificate, marriage certificate and, if applicable, proof of divorce that is certified by the Uruguayan Consulate in the United States. Health documentation should include proof of a Tetanus vaccination. Applicants must get a general health physical conducted in Uruguay, which includes blood and urine tests for those older than 15. Women more than 21 years old can have a PAP Test and Mammogram done in the United States, but the test must be less than three months old at the date of filing for residency.
A criminal background check must be conducted, and a certificate of good standing must be submitted from the United States and any country or countries an applicant has lived in during the last five years. The certificate cannot be more than six months old and must be approved by the Uruguayan Consulate in the United States. If you do have a police record, the Uruguayan Consulate must certify proof that a sentence was served.
Proof of a monthly income at a minimum of $500 must also be provided.
Citzenship
One of the benefits of becoming a Uruguayan citizen is that the government recognizes dual citizenship with the United States. Five years after filing for residency, an individual can apply for citizenship. The waiting period is shorter for families.