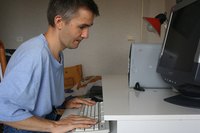 Day trading involves opening and closing a trade on the same day. Instruments such as stocks, commodities and currencies are popular choices for day traders. Price action is interpreted by using charting indicators or other types of analysis. Since a day trader does not hold a trade overnight, he must close the position before the market stops trading for the day even if the exit results in a loss.
Moving Average Crossover
A moving average crossover is one of the more popular day trading methods. Place a trade once two moving average lines cross on a chart. For example, when a 20 period moving average crosses over a 100 period moving average, the trade signal becomes valid. The position may stay open until the averages cross again or a profit target is hit.

Price Retracement
A price retracement is one of the trading strategies a day trader uses to enter a position in the direction of a trend. Once the price of an instrument stalls, it will retrace part or all of the movement. One of the more common retracement levels to use is 50 percent of the price move. A trade signal occurs when the retracement appears to be over and the price begins to resume moving in the original direction.

Price Breakout
Price breakouts occur on all charts using any time frame. Enter the trade once the price breaks through a former high or low point on a chart. Place a stop loss that is in line with your equity management rules in case the breakout is false. Exit the trade after the price begins to stall or hits a profit target.

Mean Reversion
Use a mean reversion strategy after the price of an instrument moves in one direction by an amount you determine is extreme. Enter a position in the opposite direction once the price begins to turn around. The profit target for the trade may be open or you may reverse the position once another extreme price move signals a new mean reversion trade in the opposite direction.

Candlestick Formation
Candlestick charting is a style of trading that a day trader may use with or without additional indicators. The body of each candle may have a wick on either end, depending on the opening and closing price of the candle. There are a wide variety of signals that occur on a candlestick chart, including pattern recognition trades and reversals. Combining candlestick formations with indicators is a common way to try and profit from a daily price move.