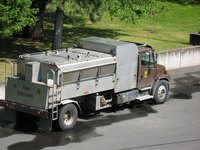 Commercial vehicle insurance protects cars and trucks used for business against risks that are generally excluded from personal auto insurance policies. Commercial policies cover items like decals and advertising logos on vehicles, as well as liability arising out of business operations. The policies tend to offer higher limits than personal auto policies and can cover all types of vehicles from sedans to tow trucks and big rigs.
Minimum Liability Insurance
Commercial vehicles, like personal vehicles, are required by every state to carry a minimum level of liability insurance. The amount required varies by state. Penalties for an uninsured vehicle can be levied against the driver and the parent company.
Reporting Requirements
Some states have different reporting requirements that insurance companies must follow when dealing with commercial policies vs. personal ones. California, for example, requires all personal auto insurance policies to be electronically reported to the state, but commercial insurance policies are exempt. Georgia allows drivers of vehicles that are part of a fleet to carry proof of insurance cards that do not list the vehicle's VIN or the registrant's name, as long as the card has certain other information and clearly reads "FLEET" at the bottom.
Listed Drivers
Most commercial vehicle insurance requires that all potential drivers of a vehicle or fleet auto to be listed by name on the insurance policy in order to be covered. Consequently, drivers with bad driving records may not be insurable under the policy or may cause the premium to increase. Be sure to alert your insurance company immediately when you hire a new driver.
Specific Vehicle Policies
Some commercial auto insurance policies are valid only for vehicles specifically listed on the policy. These are common with smaller fleets and businesses. To obtain a policy of this type you must provide your agent or broker with information about your vehicles such as the year, make, model and VIN. Sometimes additional information is needed such as gross vehicle weight, engine size or number of axles.
Fleet Policies
Larger business or those with larger fleets can purchase commercial vehicle insurance that covers all vehicles owned by the business. Despite this generalized underwriting, an insurance company may still ask for information such as minimum number of vehicles in use and identities of drivers.
Freight
If your fleet hauls freight, you will want to insure the cargo as well as the vehicle. This can be covered under a separate policy such as a business policy's inventory coverage or can be packaged into the auto insurance itself with terminal coverage and/or warehouse legal coverage. These coverage types protect cargo when it is not in transport and are subject to limitations based on time frame, location and freight type.