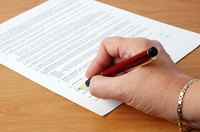 Due diligence is a process by which a buyer checks to ensure that the information provided by a seller regarding a company for sale is factually complete and correct. Due diligence is generally conducted once an agreement is in place. This process is particularly important as British law follows a general principle of "buyer beware," meaning that the individual buying a company is usually deemed responsible for ensuring that they know what they are getting for their money. However, this doesn't override specific financial laws banning the dishonest concealment of relevant facts.
Commercial Due Diligence
This involves examining how the company fits into its market sector. Points to check include the relative size of the company, what competition it faces, and what specific regulations affect the company's operation. It's arguable that some of these checks don't come under the strict definition of due diligence as they involve factors which aren't specific to the company.
Financial Due Diligence
This involves checking that the financial information which has been provided is both accurate and complete. Points which need checking can include the valuation placed on any assets, the method used to decide which date to use for expenditure and revenue on long-term projects, and how realistic any assumptions or predictions about the future are. In most cases, a financial advisor is necessary for such examination.
Legal Due Diligence
This involves checking the legal position of both the company's operations and the sale itself. The operational points to look for include how watertight contracts with suppliers and customers are and whether there is any outstanding litigation against the company. The sale points include making sure the person selling the company has the full legal authority to do so, and that they have the rights to sell assets included in the deal. A legal advisor is usually necessary for such examination.
Practicalities
While some buyers prefer a personal visit to the company, some sellers prefer not to allow this as it could allow buyers access to information beyond that which needs to be revealed as part of due diligence.
Sellers often insist the buyer sign a confidentiality agreement before embarking on due diligence. This can prevent the potential buyer from using any of the information they acquire if the deal breaks down.
If the negotiations for the takeover are secret, it may make sense to use codenames for the companies in any documentation exchanged as part of due diligence.