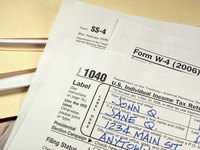 IRAs, or individual retirement accounts, were created to offer individuals the opportunity to save for retirement while taking advantage of tax deductions to encourage savings. Some IRA contributions can be deducted from your taxes, but you must not exceed the contribution limits and must use the proper income tax forms to claim the deduction.
Which Contributions Can Be Deducted?
Contributions you make to a traditional IRA can be deducted from your income taxes if you and your spouse are not covered by an employer-sponsored plan. If you or your spouse does have access to a work-sponsored plan, your deduction may be reduced or even disallowed, depending on your modified adjusted gross income. The modified adjusted gross income limits change for different filing status and change each year based on inflation. Roth IRA contributions cannot be deducted from your taxes.
Limitations on Deductions
The deduction cannot be greater than the annual contribution limit for traditional IRAs or your earned income, whichever is less. This limit depends on the year of the contribution and your age--people age 50 and older can contribute extra. The IRS reviews the contribution limits each year and adjusts for inflation as needed. As of 2010, you can contribute up to $5,000 if you are under 50 or $6,000 if you are 50 or older.
Paperwork
In order to claim the deduction on your income taxes, you must file your tax return using either Form 1040 or Form 1040A. You cannot claim the deduction if you use Form 1040EZ to file your return. The IRS classifies the deduction as an adjustment to income, meaning you can claim the deduction without itemizing your deductions. You report the amount of the deduction on either line 17 of Form 1040A or line 32 of Form 1040.