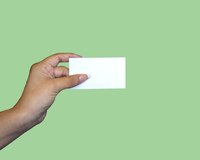 As a caterer, you are expected to know how to prepare, handle and present food When a customer needs a caterer, they want someone who is professional and can take over a major element of their special event or meeting. Therefore, it is important to design a business card that not only showcases your products, but is true to your level of service.
Logo Elements
When you're designing your business card, you may want to go the traditional route by building your card around your logo design. If you have yet to create your logo or have one that allows you to extract graphic elements from it, such as a chef's hat, utensils or serving tray, use these items as the signature focal points. For example, if your logo features a chef's hat and text, enlarge the hat and crop it in the corner of the card so that it's still evident what the image is, but you only use a portion of it. Place the image off-center such as in the lower right or left corner. This also allows for more and larger text on the card.
Photographs
Use stock photography or hire a professional photographer to capture a photo of food. Use this image as a background for the card and screen the image's contrast, so that the text placed on top remains visible. Using a photographic image helps to attract attention, so it should be something that is commonly delicious and easily identifiable. Alternatively, use your specialty to make your card pop by showcasing a sample of your popular dishes blended into one photo image.
Die Cutting
Creating a custom shape, or "die," for your business card is a creative, yet expensive, print job. Consider your market and budget as you're developing your design, and remember that the exchange of your business card is often a first and reminding impression of what you do. Look at it as a powerful marketing communication tool. This may help to make your decision easier as you're considering a specialty custom-cut card design. Taste of Ink Studios specializes in unique and custom identity packages, like a business card for a café in the shape of a coffee cup. Consider the "wow" factor as you're developing your design and how you wish to place yourself against the competition.