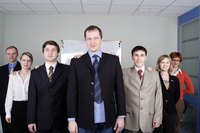 Organizational communication is the process of exchanging messages through words, actions and symbols on a corporate level. Organizational communication focuses on social science to improve a company's productivity, efficiency and employee satisfaction. Various tools increase an organization's communication effectiveness. Organizations are made up of people and every person receives and processes information in different ways, so it's important that organizations use a variety of communication tools to ensure the messages are understood by everyone.
Feedback Agents
Feedback agents increase employee satisfaction and inform upper management about issues and needs of the organization. Surveys allow leadership to assess the perceptions, needs and productivity of the employees. Holding focus groups involves people from different departments in sharing their thoughts, concerns and ideas on a specific aspect. Implementing an "open door policy" where employees are encouraged to provide feedback whenever they want also increases upward communication effectiveness.
Training and Development Activities
Training and development activities that focus on organizational, interpersonal and business communication provide a hands-on experience for people in the organization to grow their skills. These are also called team-building activities, and they include an obstacle course with one person guiding someone who is blindfolded. The person with sight uses oral communication to instruct the blindfolded person through the course. This activity teaches oral skills, listening skills, leadership skills and team-building skills.
Defined Policy
Create a defined communication policy that provides specific procedures people are expected to follow when communicating within the organization. For example, if someone needs to send a mass email to a department or the entire company, a step-by-step approval process should be in place for employees to follow. This ensures that each employee knows exactly what to do to make the communication as effective as possible. Other policies include the use of voice mail, interdepartmental communication procedures, contacting upper management and utilizing the human resources department.
Meetings
Implementing weekly, monthly and annual meetings on every departmental level keeps everyone in the organization informed and on the same page when it comes to vision, progress and new goals. Meetings use verbal communication and visual aides to inform, direct and inspire the members of the organization.