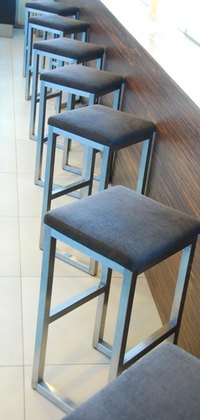 Bar stools are the perfect seats for a tall counter so that you can effectively drink and eat, and lean on the bar itself without it being uncomfortable or awkward. While some bar stools are made out of metal and can be hundreds of dollars each, there are a number of bar stools that are inexpensive or made out of other materials.
Saddle Seat Bar Stool
Saddle seat bar stools are cheap but classic bar stools that are inexpensive and can be purchased at many major department or furniture stores. These stools are made of solid pieces of wood with four legs and cross beams between the legs to stabilize it. The seat is bowed so it is comfortable to sit in, although it is usually not padded, which can make them more uncomfortable. Padding on saddle seat bar stools also adds to the cost, so buying a cheaper stool just made from wood can be done for about $50 each.
Plastic and Metal Bar Stools
These plastic and chrome metal bar stools come in a variety of colors and are sold for about $50 in Walmart, Kmart or Target. These bar stools are basically tall chairs that aren't comfortable to sit in for long periods of time but are effective as bar stools as they allow people to sit at the proper height. The plastic seat and back are relatively hard, but durable. The chrome seats can also be raised and lowered to match the height of the bar.
Build Your Own Bar Stool
Building a bar stool out of wood can often be done inexpensively, as long as you have the proper tools. The same type of wood should be used for the legs and seat. A round top should be cut out of a larger piece of wood and sanded down smooth to make the seat. Four legs should be cut to be about 3 feet long (or the height of your bar) and about an inch to an inch and a half wide. A few small pieces of wood can be attached between the legs with heavy duty wood glue, or small screws and brackets, giving the stool stability. These legs can be attached to the seat with small screws and brackets as well, but make sure the screws are short enough so they don't pierce through the seat. The total cost of materials shouldn't be more than $20 to $30.