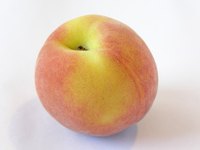 Peaches are not only delicious; they are also good sources of fiber, potassium, niacin, and Vitamins A and C. Just remember that it's important to inspect fresh peaches before you buy or eat them. Small dark spots on the skin typically indicate that a peach has a bacterial or fungal infection. Not all such infections cause serious damage, but some can keep the fruit from ripening, or make it unsuitable to preserve by freezing or canning.
Bacterial Spot
Bacterial spot, also called black spot, shows up as tiny, angular dark specks on the skin. Most of a peach with bacterial spot can still be eaten, since the flesh is only affected up to a depth of about a quarter of an inch. However, bacterial spot may keep the fruit from ripening or may create a network of cracks in the skin, through which a fungus can infect the flesh. Avoid buying green peaches that already have a number of spots.
Peach Scab
The fungus that causes peach scab can be recognized by the tiny, circular, dark green to black spots that appear near the stem end of the peach . If only a few discrete spots are present on a peach that is ripe or almost ripe, it is safe to buy, although affected flesh will need to be cut away before it is eaten. However, peaches with scab are not suitable for preserving, because the skin will not slide off easily when the fruit is dipped in hot water.
Brown Rot
The fungus that causes brown rot first appears as a small, round, brownish-colored spot that enlarges and eventually causes the whole fruit to rot. Riper peaches are more susceptible; brown rot can appear after a green peach has been brought home and begins to ripen. Infected fruit can infect other fruit, so it is best to dispose of an infected peach immediately. Brown rot can easily infect a peach whose skin has been ruptured by lesions from bacterial spot or peach scab.
Rhizopus Rot
Rhizopus rot causes a small brown spot to appear on a peach's skin; it can be distinguished from brown rot because the spot is somewhat sunken and the skin slides off easily. Rhizopus rot spreads quickly and will soon cover the entire peach, along with a white mold that covers the surface of the peach and can spread to other fruit. Infected fruit should be disposed of quickly.