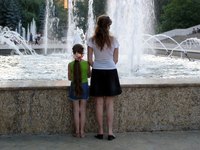 Single mothers serve as both the primary caregiver and, usually, sole financial supporter of the family. The state of Pennsylvania offers grant and assistance programs that aren't specifically targeted to single mothers; however, based on the eligibility requirements, single mothers often qualify for such programs.
Education
Grants for continuing education are available through the Pennsylvania State Grant Program and are calculated based on income and family size. Single mothers can qualify for Pennsylvania-sponsored grants depending on multiple factors; there are no hard-and-clear rules. Education grants don't have to be repaid and help offset the costs associated with higher education.
Pennsylvania State Grant Program PHEAA P.O. Box 8157 Harrisburg, PA 17105-8157 1-800-692-7392 pheaa.org

Childcare
The State of Pennsylvania recognizes that single mothers need to maintain gainful employment even though the cost of childcare continues to rise. Programs through the state help assist single mothers with subsidizing childcare costs that are considered grants (as they're not funds that need to be repaid). As of June 2010, the income limit for a family of two for childcare assistance is $29,140.
CCIS of Dauphin County 110 North 26th Street Harrisburg, PA 17103 717-233-8454 dpw.state.pa.us
Housing
Single mothers who need assistance with housing costs have the option of programs through HUD (Housing and Urban Development), which offer assistance that doesn't to be repaid. These programs are for those wishing to purchase their own home; such grant programs exist to help with home acquisition and closing costs. Single mothers may have a lower total household income based on their dependents, which can help them qualify for such programs. The HUD programs are administered through the state; however, there are additional programs that are available through county government as well (these vary depending upon geographic location).
Pennsylvania Housing Finance Agency P.O. Box 8029 Harrisburg, PA 17105-8029 717-780-3800 www.phfa.org

Utility Bills
Pennsylvania's LIHEAP (Low-Income Home Energy Assistance Program) provides grants to assist with heating and cooling costs. Similar state programs exist to help single mothers with low incomes with other utility bills, such as those for natural gas, propane and water. This Pennsylvania-sponsored and -administered program can be crucial in helping single mothers who are the primary breadwinners for their families.
Dauphin County Assistance Office 2432 North 7th Street P.O. Box 5959 Harrisburg, PA 17110-0959 1-800-788-5616 dpw.state.pa.us

Business Ownership and Operations
State- and federal-sponsored grants exist for women who wish to start or grow their own business. This is an avenue worth exploring for single mothers who are entrepreneurial and wish to expand their careers on their own. Various programs at both the Pennsylvania state government and local government level exist; requirements vary depending on the type of business in question.
Bureau of Minority and Women Business Opportunities 502 North Office Building Harrisburg, PA 17125 717-787-7380 www.portal.state.pa.us/portal/server.pt/community/bureau_of_minority_and_women_business_opportunities/1358