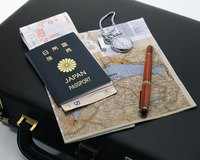 According to the Office for National Statistics, the United Kingdom received over 69 million visitors from all over the world in 2008—a drop from previous years. (see Reference 1) Most visitors were required to obtain a tourist visa prior to their departure. To encourage tourism to the U.K., it is not difficult to obtain a visa for most foreign nationals. Once the visa requirements are met, tourists can explore the many major sights of the United Kingdom.
Nationality
A visa is not necessary for citizens of the United States traveling to the United Kingdom for tourism. Citizens of Commonwealth countries such as Canada, Australia and New Zealand and passport holders of EU nations do not need tourist visas. Most other nations require a visa to enter the U.K. for tourism. Some foreign nationals are also required to apply for a tourist visa if they are merely traveling through the U.K. on their way to another destination. The British government has provided a list of nations that require a tourist visa on their website. (see Resources)
Length of Stay
Tourist visas typically permit a stay of 6 months or less. If you're traveling in the U.K. on a 6-month visa and wish to stay longer, you must go to the local British tourist office and apply for an extension before the visa expires. Overstaying on a visa can result in expulsion from the United Kingdom. For planned stays of longer than 6 months, you can apply prior to departure. However, the British government warns that longer stay applications have a greater chance of being rejected.
Application
Tourists that need visas must fill out the VAF1 application form, which asks for your desired length of stay, contact information, the dates you wish to travel, your name, nationality and passport information. A passport valid for at least six months is required, and it should have at least one blank visa page. Endorsement pages are not acceptable for visas. If you do not have enough visas pages, you should renew your passport or obtain more visas pages prior to applying. You will also need to provide a flight itinerary that must prove you have purchased a round-trip ticket to and from the U.K.
Submission
You may submit your tourist visa application at the nearest British consulate. If applications cannot be submitted in person, you can hire a visa services company or ask a friend to submit the application on your behalf. The application fee varies depending on your nationality, but most consulates accept cash or credit cards.